Last week was UK Coffee Week!
During the annual UK Coffee Week, the coffee industry and its customers unite to celebrate all things coffee. Businesses choose ways to accumulate donations for Project Waterfall throughout the week, raising funds for the amazing people who make our coffee experience possible.
Coffee is a water-intensive crop with a large water footprint. Up to 840L of water is needed to make one 750ml pot of coffee.  That's more than tea, sugar, wheat and barley!
Since 2011, the UK Coffee Week community has raised over £800,000 for Project Waterfall. As a result, 45,000 people have had improved access to clean drinking water, sanitation and education.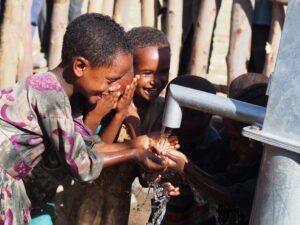 Last year, we raised £270 by donating 10p from every coffee sold throughout UK Coffee Week!
This year, we donated 10p from every plant-based milk drink sold across all three of our venues. With our Northgate Street shop being entirely plant-based, serving oat, soya, almond and coconut milk, this helped bring our amount to £160.90 for the week. We are proud to donate this money to improve the lives and wellbeing of those living in coffee growing communities.