Food waste is responsible for 10% of greenhouse gas emissions. We waste 2.5 billion tonnes of food anually, whilst 828 million people go hungry every day. Too Good To Go is an app that lets you rescue unsold food from local hospitality businesses.
We started our partnership with the app in August 2022, offering our unsold bakes and pastries to customers for a third of their retail price.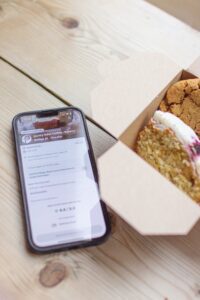 From January – April this year, we saved 430 meals and 1.09 tonnes of CO2e!
With sustainability being one of our core values, working with Too Good To Go was a must for us, especially as food waste is so high in the hospitality industry. We are so happy to be able to reduce so much food waste that otherwise would have been thrown away.
Our surprise bags are available for £4, containing £12 worth of bakes and pastries. 57 Bridge Street, 128 Northgate Street and 50a Bridge Street are all available on the app, but be quick – they sell out fast!
Help us in reducing food waste and download the app to secure your bag of delicious treats for less.